KeyNamics – The MS Dynamics Keyfax Integration
All of the major Housing Management Systems have integrations to Keyfax Repairs Diagnostics and General Enquiries. To date, that's over fourteen integrations, including many flavours of online portals for customer self-service. However, increasingly customers are asking about Keyfax integrated with MS Dynamics 365.
Why not let the Dynamics Suppliers integrate?
Most other Keyfax integrations are wholly developed and owned by the Housing Management System (HMS) provider. However, this often starts with a Minimum Viable Product (MVP) which rarely harnesses the real power of Keyfax. After go-live, when technical support calls arise to resolve an issue between the systems, our support team often has little to go on, with minimal documentation.
Therefore Omfax has developed KeyNamics. This is a fully documented MS Dynamics integration which provides a solid interface to Keyfax, and is easily extended. This means that we don't have to understand and support different integrations from multiple suppliers.
With the KeyNamics integration, any issues, are ours to fix, and will always have our highest priority. Additionally, this development goes well beyond MVP to give users the power to make their own changes.
With KeyNamics customers can:
Alter data into or out of Keyfax on launch and completion
Choose which version of Keyfax to launch: Keyfax for staff, or Keyfax Online
Instantly adjust how data is mapped back into MS Dynamics CRM.
MS Dynamics 365 launching Keyfax
KeyNamics supports the following user interfaces:
Unified Interface
Dynamics 365 for Outlook client (COM add-in)
Mobile app
The D365 Mobile App can present Keyfax alternative views, e.g. as an office/staff or online/public presentation. Here's a selection: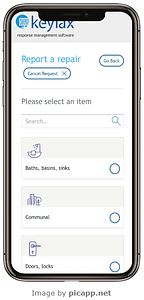 Imagine a Contact Centre User has identified an individual tenant in Dynamics. The CC user chooses a new repair and then hits "Launch Keyfax Scripts" which pops up the  Keyfax browser window over the top of Dynamics:
Dynamics 365 passes Keyfax the name and address details, but can also be configured to send any other data it holds.
When the script completes, data elements are mapped from the Keyfax 'export' data back into the individual fields of the Dynamics Form, as shown in the Repair summary:
All basic Dynamics data types are supported along with Lookups, Option Sets, and Option Pairs etc. You can set default values to be used where data elements are missing, and these can be set in the Mappings.
Logging & Mapping
KeyNamics provides a 'Logging' mechanism for general troubleshooting and to help with building Mappings. This shows all data sent and received from Keyfax.
The Mappings define which data elements are sent to Keyfax on start-up. Which means these mapped data elements are available to Keyfax scripts and greatly enhance the script's capabilities. Often that results in a reduction in the number of question and answer steps required.
If you want more information for your Keyfax scripts, like the tenant's heating type, simply add it to the start-up.
For advanced users,  you can use FetchXML to construct a query to provide any additional data elements. E.g. parental Account/Contact details.
Dynamics customers can now fully harness the power of Keyfax scripts, with the configurability that the KeyNamics integration provides. They can now access a huge variety of Dynamics information and use it to build intelligence into their Keyfax scripts.
Please contact us to enquire about a demonstration or for licensing and support costs.