Platform Project background and Key Objectives
Platform Housing Group formed in 2018, following the merger of Fortis Living and Waterloo Housing Group. With over 45,000 homes, they are the largest Housing Association in the Midlands and also one of the largest in the country. During 2019 and 2020, Platform Housing built more social and affordable homes in England than any other social housing provider.
Before the merger, Fortis Living were an established Omfax customer, using Keyfax Repairs Diagnostics and Enquiries Diagnostics. Keyfax was launched through Capita's OPENHousing Housing Management System (HMS).
As part of their digital transformation, Platform Housing identified that a new single Housing Management System (HMS) was required. In March 2020, Platform Housing approached Omfax to work with Microsoft Dynamics specialists, Crimson. From that meeting, a project was agreed to integrate Dynamics 365 with KeyNamics and Keyfax, within the Contact Centre.
The integration between Keyfax and Dynamics, KeyNamics, supports Platform Housing in delivering their key objectives of:
streamlined processes
improved customer experience
data-driven decisions
an optimised workforce
easier to manage business systems and
single version of the truth.
KeyNamics – Integrating Microsoft Dynamics 365 with Keyfax
Keyfax Diagnostics has established integrations with many of the major HMS providers, with over fourteen in total.
When Platform Housing approached Omfax, the team were delighted to have the perfect solution ready to go in KeyNamics.
Omfax developed KeyNamics as a Dynamics plug-in that enables Microsoft Dynamics 365 to integrate seamlessly with Keyfax, using the Dynamics Unified Interface.
Platform was able to simply add a button to 'launch' Keyfax Diagnostic scripts from any Dynamics Form. Additionally, they found they could simply configure the mapping entries to work with their Keyfax Scripts. This gave them complete control over what information is used in Keyfax scripts, and what is returned to Dynamics.
Platform discovered that the mappings, though simple, are also very powerful. Anything can be mapped, from the customer name, address, telephone number, rent balance, right up to vulnerabilities. In fact, any item of information that they want to use in their diagnostic scripts.
When a repairs diagnostic is complete, data is mapped from Keyfax and populates the individual fields of the Dynamics Form.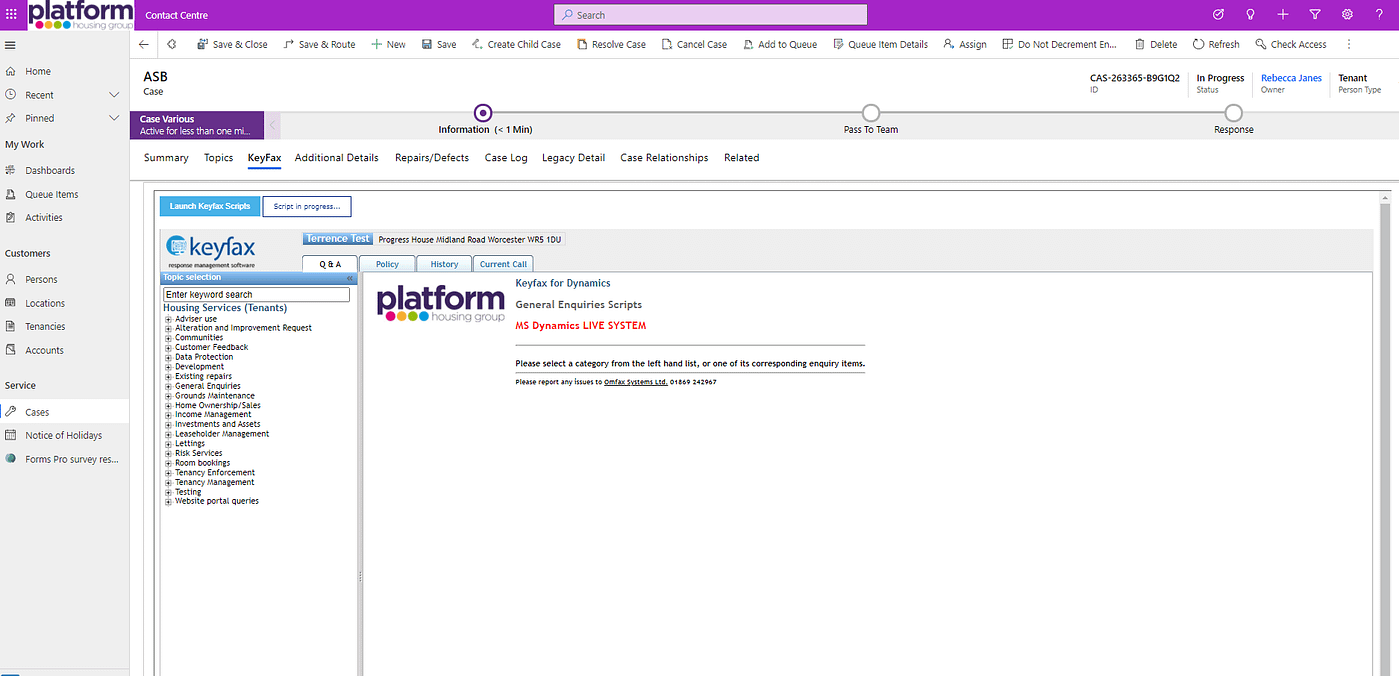 KeyNamics Implementation
As the project began, the world was facing the COVID pandemic and home working was becoming the new normal. Nevertheless, Omfax worked remotely, but closely, with Crimson and Platform to gather business requirements. Over time, these sessions enabled agreement on the project scope, whilst keeping the customer journey at its heart.
The Omfax side of the project involved:
uploading basic settings and mappings
configuring KeyNamics settings
testing connectivity and launching of customer Keyfax scripts
identifying form(s) required to launch Keyfax
identifying and configuring data mappings (Sent to Keyfax and Received from Keyfax); and
User Acceptance Testing.
Platform's Project Results
In October 2020, Platform went live. Since then, they have found these to be the main benefits of using KeyNamics and working with Omfax:
expert and responsive technical support
comprehensive online documentation
simple implementation – Crimson began building the solution almost immediately
future-proof – KeyNamics works with the latest Dynamics updates
web services integration: – no more need for the legacy Keyfax Client in Citrix
launch either version of Keyfax – Repairs Diagnostics for staff or Online for Tenant Self-serve and
no longer any dependency on the HMS vendor for changes to the integration.
In the space of a short few months, Platform were raising in excess of 1,000 enquiries a day through Dynamics and Keyfax.